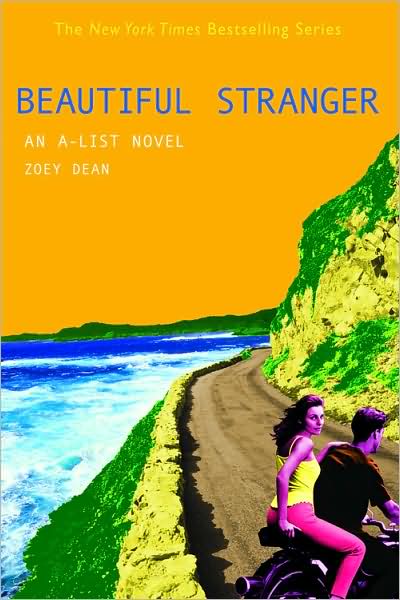 Beautiful Stranger
Zoey Dean
Little, Brown
$9.99
August 2008
FTC: This is my book. I did not receive it from the publisher or author.
Characters 20/20
Plot 15/20
Setting 15/20
Cover 15/20
Ending 20/20
Total grade: 85% B
Sexual content: 10/20
Violence: 5/20
Drugs: 5/20
Underage drinking: 15/20
Swearing: 10/20
Total rating: 15+
Summary: (Amazon)
Anna decides to take an end-of-summer getaway-to get away from her drama-filled LA life. So she packs her Louis Vuitton, grabs her close friend Sam, and heads to the Big Apple. Between trips to the Met and shopping at Bendel's, the girls are living the A-List life on Anna's home turf. But their trip isn't exactly a vacation. Sam is here to spy on Eduardo and decode his recent strange behavior. Will what she discovers send her hopping on the next private jet back to Beverly Hills? And who is the beautiful stranger who appears on Anna's Upper East Side doorstep? Anna begins to wonder whether she wants to head back west again-especially since Ben seems to have moved on . . . with someone who isn't a stranger at all. When it comes to the A-List, there's drama coast to coast.
My Thoughts:
I love the A-List series but to be honest they all started going down after book six. I should have just let it all end there. It would have made me feel so much better about this series. I feel as if the author is struggling to keep the story going at this point. Everything has to be so dramatic and over stated which is super annoying. I just want a good story, not a soap opera.

If you like long series keep reading on to this, if not, quit at book six!
Quotes:
Here is a random quote I found by opening to a random page:
There were chuckles around the room, the sophisticated laughter of the upper ten percent.