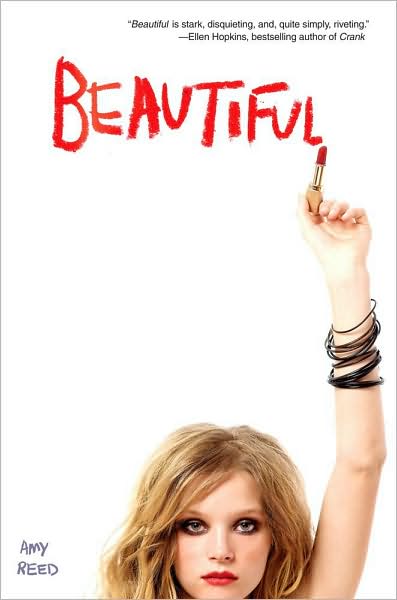 Beautiful
Amy Reed
Simon Pulse
$16.99
October 2009
FTC: I received this book from the publisher with the understanding that I would provide an honest review for no compensation.

Characters 20/20
Plot 20/20
Setting 15/20
Cover 15/20
Ending 15/20
Total grade: 85% B
Sexual content: 12/20
Violence: 5/20
Drugs: 13/20
Underage drinking: 15/20
Swearing: 15/20
Total rating: 16+
Summary: (Amazon)
Thirteen-year-old Cassie has bloomed. Following her family's move from an island off the coast of Washington to a Seattle suburb, she has a new attractiveness that earns her the moniker "the beautiful seventh grader." Her good looks and willingness to conform are a passport to her school's powerful clique of druggies led by Alex, a frightening but charismatic fellow seventh grader who adopts Cassie as her best friend. Cassie's compliance with Alex's demands—to burn photographs of former friends, to take acid, to have sex—secures her a position as Alex's second in command but threatens her health and safety. When Alex's half sister Sarah moves in with Alex and her wasted mother, Cassie finds her allegiance shifting from her best friend to Sarah.
My Thoughts:
It wasn't till I was looking on Amazon that I put it all together. This book reminded me so much of something and I finally figured it out. The movie Thirteen ring a bell to anyone?

Cassie's age shocked me. I had to remind myself that she was my baby sisters' age. I didn't talk or act that way in 7th grade. I didn't know anyone who did and I went to the middle school located smack dab in the ghetto. The school was 70% wealthy and 30% not. Neither class group was that way so this just freaked me out. I also hated how all the "bad" kids were poor. Come on, my rich friends are the ones that have tried drugs. The poorer ones have too much to lose.

At one point when they are looking for drug money I found it hilarious. That was super unique and wow they are crafty drug addicts. Speaking of drugs I would like to give a big WHAT THE HECK??? How do parents not know there kid is on drugs and smoking pot out there bedroom window? That's a big case of DENIAL!
My favorite character was Sarah. My god, her life story was devastating. I just wish I had heard more from her, more about her.

Even though the girls in this book are fairly young I would not recommend this to middle school kids. Not even freshman. I think you need to have some real maturity because this book can be taken two ways. You can learn and grow or you can be left with a new corrupt view on the world. Be ready.

Quotes:
Here is a quote I found while reading:
"You look like a slut," says my dad.