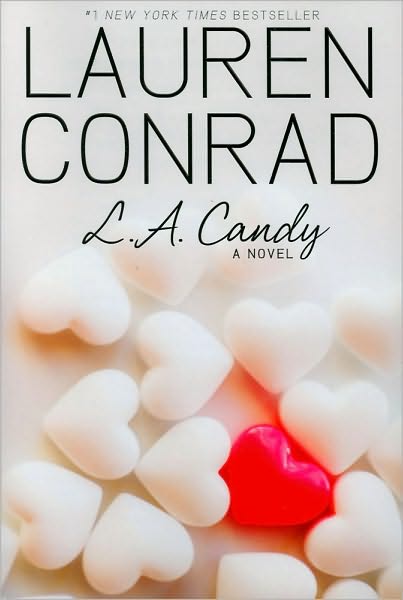 LA Candy
Lauren Conrad
Harper teen
$9.99
January 5th (Paperback)
FTC: This is my book. I did not receive it or any compensation from the author or publisher.

Characters 20/20
Plot 15/20
Setting 15/20
Cover 20/20
Ending 20/20
Total grade: 90% A
Sexual content: moderate
Violence: none
Drugs: none
Underage drinking: extreme
Swearing: moderate
Total rating: 15+
Summary: (Amazon)
After high school, two best friends move to Los Angeles hoping to start "a new and amazing life," but their existence is anything but glamorous. Jane is an intern for a famous event planner and Scarlett is a freshman at U.S.C. However, things change quickly when a TV producer asks them to be in a new reality series along with Madison and Gaby, following their lives as they try to make it in L.A. After signing on, the two friends move into a posh apartment and get into the hottest clubs. Scarlett is skeptical about all the attention, but Jane enjoys being in the limelight. When Jane becomes the show's star, Madison is jealous and plots to bring her down. By story's end, Jane learns that having cameras follow you everywhere isn't what it is cracked up to be. The cliff-hanger climax indicates that there will be more to come.
My Thoughts:
When this book began I think my expectations were too high. I expected a flawless story from the way everyone talked it up. I was disappointed when I saw that it wasn't. Finally I accepted that it's her first book and then I was really able to enjoy it. The characters were fun and all so different. The setting was typical but she wrote what she knew so I can appreciate that.

The plot was enjoyable to me because I love The Hills. It was fun to really see how Lauren felt about her reality TV experience shine through. I was able to see it's not just a cake walk. The ending to this story was AMAZING! I had been iffy about the book until the last ten chapters, but the final chapter BLEW it away! I was amazed with how she wrote a cliffhanger.

I would say fans of reality TV and chick lit should check this out.
Quotes:
Here is a random quote I found by opening to a random page:

She sounded louder then usual and a little drunk.