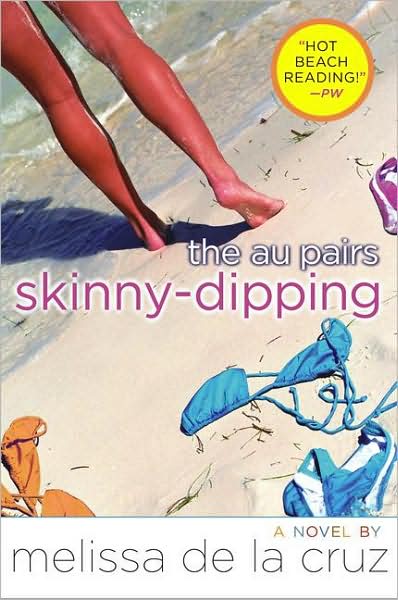 Skinny-Dipping (The Au Pairs book 2)
Melissa de la Cruz
Simon Pulse
$8.99
May 2006
FTC: This is my book. I did not receive it from the publisher or author.
Characters 20/20
Plot 15/20
Setting 20/20
Cover 20/20
Ending 20/20
Total grade: 95% A
Sexual content: 12/20
Violence: 0/20
Drugs: 8/20
Underage drinking: 10/20
Swearing: 10/20
Total rating: 14+
Summary: (Amazon)
Eliza, Mara, and Jacqui return for a second season of high fashion, fabulous parties, unlimited alcohol, sex, and celebrities in New York's exclusive Hamptons. Last summer, as au pairs for the wealthy Perry family, the girls partied their way through the season. Now Mara and Jacqui have returned to care for the Perry children while Eliza has chosen to work at the ultra-hip nightclub, The Seventh Circle. Sound perfect? Not quite. Eliza has broken up with the hunky gardener from last year and has hooked up with Ryan Perry, Mara's ex-boyfriend. After all, Mara did break up with him. The catch is that, unbeknownst to Eliza, Mara wants him back. Jacqui, the beautiful Brazilian, has recently sworn off men-until she meets Eliza's replacement, the stunning Philippe. Oh, yeah, it may be worth mentioning that Mrs. Perry also has her eye on him. The story is ultimately about the fleeting nature of popularity and how easy it is to get caught up in the game.
My Thoughts:
I loved the first Au Pair book when I read it about a year ago! After that I was bombarded with books so I had put off reading more of the series. I wish I hadn't! The plot was common in many ways but it was still a light, enjoyable read.

The characters were each there own person which is always nice. Friends in books shouldn't be too similar. I found some real connections with the characters in this book.
I recommend this book to girls looking for a fun beach read.

Quotes:
Here is a random quote I found by opening to a random page:
"Turn the lights down around them, will you? They're totally killing the mood."