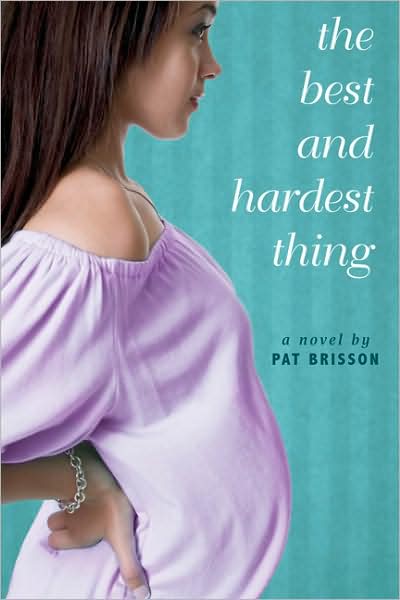 The Best and Hardest Thing
Pat Brisson
Viking
$16.99
May 2010
FTC:
This is a library book. I am not being compensated in any manner for my review.
Characters 15/20
Plot 15/20
Setting 15/20
Cover 20/20
Ending 20/20
Total grade: 85% B
Sexual content: Moderate
Violence: n/a
Drugs: moderate
Underage drinking: n/a
Swearing: mild
Total rating: 14+
Summary:
Fifteen-year-old Molly Biden has always been studious, dependable, some might even say saintly. And she's sick of herself. So when she spots mysterious bad boy Grady Dillon, she devises a plan to make herself over into someone new, someone who will attract Grady's attention. She succeeds—but a little too well. When Molly discovers she's pregnant, she's forced to make the hardest choice of her life.
My Thoughts:
Although I finally got into it at the end, the start of this book was not super. It felt forced to me. Some of the verse didn't flow like books such as Far From You and Impulse. It was too much emphasis on using different types of poetry and not enough on developing the actual plot. I felt mislead to think a lot of the book would be teen pregnancy, when in reality if was less then half.
The cover is awesome so that kept the grade up. Also, the end finished things up nicely so that kept it in the B range. I felt not enough development was made in the other categories to give this an A.
I recommend this book to fans of teen pregnancy. I'm always up for a good teen pregnancy book. So if anyone has a recommendation, comment away!