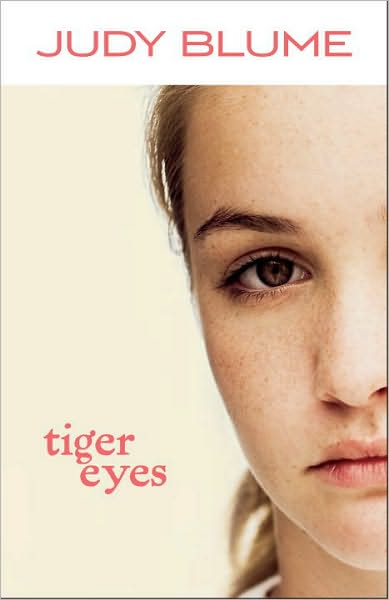 Couldn't find the cover I have and Love

Tiger Eyes
Judy Blume
Dell (The version I have. It's pretty old)
$8.99
1981
FTC: This is my book. I am not being compensated in any manner for my review.
Characters 20/20
Plot 20/20
Setting 20/20
Cover 20/20
Ending 20/20
Total grade: 100% A
Sexual content: Moderate
Violence: Heavy (The main plot is a murder)
Drugs: mild
Underage drinking: moderate
Swearing: moderate
Total rating: 15+
Summary:
Davey has never felt so alone in her life. Her father is dead—shot in a holdup—and now her mother is moving the family to New Mexico to try to recover.

Climbing in the Los Alamos canyon, Davey meets the mysterious Wolf, who can read Davey's "sad eyes." Wolf is the only person who seems to understand the rage and fear Davey feels.

Slowly, with Wolf's help, Davey realizes that she must get on with her life. But when will she be ready to leave the past behind and move toward the future? Will she ever stop hurting?
My Thoughts:
This is my most favorite book of all times. I have read it 4 times and every time I learn something new. Judy Blume is amazing when it comes to characters. She gives us a real view of how she wants them to be seen but yet leaves enough for us to discover on our own.

The plot of this book is worthy of an award. There is a unique factor with the murder yet Davey also has to deal with all the same issues most teens face. I felt that Judy captured both points in a tactful yet honest manner.
The setting of this book is gorgeous. You feel as if you are there. She describes everything to that point but she does not do the annoying "the green tree's swished gently above the green grass and below the bright blue sky with white clouds" thing.

As for the cover, mine is amazing, I noticed that it gets worse and worse as new editions come out. I think that mine really captures the pain Davey is feeling and also provides snippets of the story.

As for the ending, OH MY! I love how it ends. It leaves the big questions answered but leaves enough room for the reader to decide where her life goes from there. I think that is important in a novel.
I recommend this book to everyone. I love it, and always have.