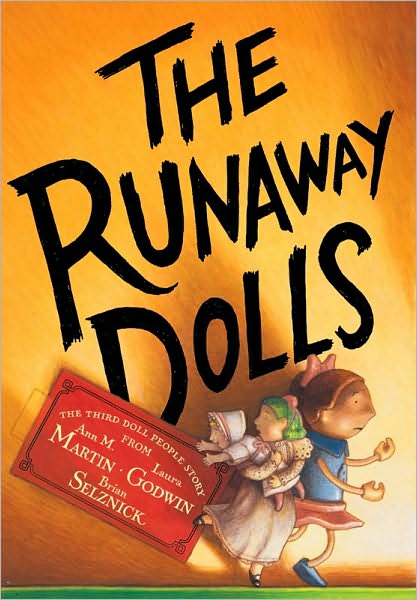 Runaway Dolls
Ann M. Martin
Hyperion
$16.99
October 2008
FTC: This is a library book. I am not being compensated for reviewing this book.
Total grade: A (if read by correct age)
Total rating: Child
Summary:
A mysterious package addressed to Grandma Palmer's grandfather arrives at the Palmer home while they are on vacation. Kate's doll, Annabelle, and her sister's doll, Tiffany Funcraft, deduce that the package contains the Doll family's missing baby. They open the package to find that Matilda is indeed Annabelle's lost sister. But how do they keep the family from sending her back? Since the package is not addressed to the Palmers, they might not open it, and the baby will be lost forever. Annabelle decides the only solution is to run away with her new sibling to save her from this fate. Annabelle, her brother Bobby, Tiffany, and her brother Bailey join the adventure and find themselves lost in the woods and then trapped in a toy store.
My Thoughts:
When I was younger I adored this series. Recently on an Amazon excursion I found that a third book had been released. I decided to check it out from the library. It was pretty good but it defiantly was not aged at my age-group. This is the kind of series all little kids should read. For any mom's or siblings of 7-12 year olds GET THIS BOOK.

The plot was fun and talking dolls are a unique thing to books.