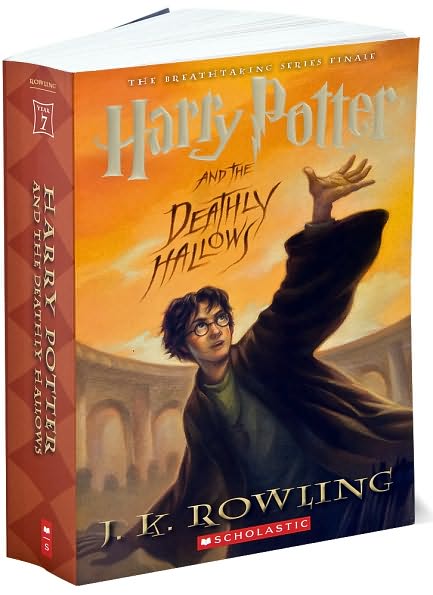 Harry Potter and the Deathly Hallows
J.K. Rowling
Scholastic
$14.99 (Paperback)
July 2009 (Paperback)
FTC: This is my book. I am not being compensated in any manner for my review.
Characters 20/20
Plot 18/20
Setting 20/20
Cover 20/20
Ending 20/20
Total grade: 98% A
Sexual content: mild
Violence: heavy
Drugs: N/A
Underage drinking: N/A (The drinking age is different there)
Swearing: moderate
Total rating: 14+
Summary:
After the death of Hogwarts beloved Headmaster Harry, Ron and Hermione are left with a tremendous task to perform. As we found out in book 6, Voldemort has split his soul into 7 parts. It is up to Harry to find and destroy all of the missing pieces before there is any chance Voldemort can die. This book leaves us with many dead and more than a few lives destroyed.
My Thoughts:
This is my second reading of this book. Since it is such a huge book I feel that I got a lot from reading it again. Although I didn't remember things getting such a slow start is was just as delicious this second time. You are really able to get lost in the world J.K. Rowling has created for us and no focus on the fact that the book you are reading is so long (the same can not be said for Stephanie Meyer). I applaud her incredible writing abilities and the finish to the series she has created.

The end of this book will leave readers satisfied, their desires fulfilled. I recommend this book to everyone, even those who have already read it. Refresh yourself before the movie.

Speaking of the movie, 2 parts?! Come on, LAME!
Playlist:
You Belong With Me (Taylor Swift)

ß

This book has romance, okay?
Stronger (Britney Spears)
All We Are (Matt Nathanson)
When It All Falls Apart (The Veronica's)
Sticks and Stones (The Pierces)