Here are the books on my wishlist this week :)
~Fallen Hearts by V.C. Andrews~
As Logan's bride, she would savor now the love she had sought for so long. And free from her father's clutches, she would live again in her backwoods town, a respected teacher and cherished wife. But after a wedding trip to Boston's Farthinggale Manor and a lavish, elegant party, Heaven and Logan are persuaded to stay...lured by Tony Tatterton's guile to live amidst the Tatterton wealth and privilege. Then the ghosts of Heaven's past rise up once more, writhing around her fragile happiness...threatening her precious love with scandal and jealousy, sinister passions and dangerous dreams!
~Web of dreams by V.C. Andrews~
With nowhere to go, no one to help her, Leigh fled into the arms of Luke Casteel! Leigh Van Voreen had to escape from Boston's Farthinggale Manor. The foul secret she harbored within her seemed to darken her life forever. Jillian, her mother, would not believe her...and Tony Tatterton, her stepfather, had betrayed her most cruelly.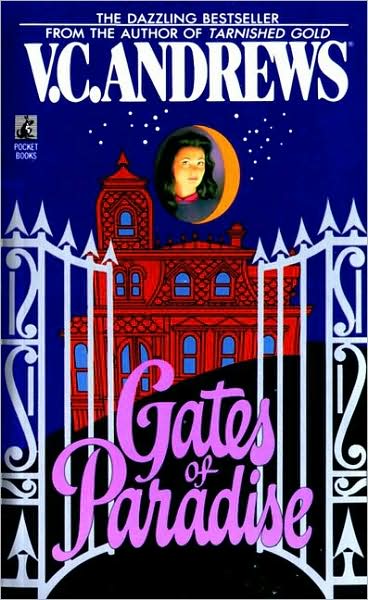 Gates of Paradise (Casteel Series #4)
by V. C. Andrews
Stunned by tragedy, desperate and alone, Heaven's daughter clung to the frailest of dreams!
Everything Beautiful
by Simmone Howell
Riley Rose, atheist and bad girl, has been tricked into attending Spirit Ranch, a Christian camp. There she meets Dylan Kier, alumni camper and recent paraplegic, who arrives with a chip on his shoulder and a determination to perfect all of his bad habits. United in their personal suffering and in their irritation at their fellow campers, they turn the camp inside out as they question the meaning of belief systems, test their faith in each other, and ultimately settle a debate of the heart.
Leaving Paradise
by Simone Elkeles
Nothing has been the same since Caleb Becker left a party drunk, got behind the wheel, and hit Maggie Armstrong. Even after months of painful physical therapy, Maggie walks with a limp. Her social life is nil and a scholarship to study abroad—her chance to escape everyone and their pitying stares—has been canceled.
After a year in juvenile jail, Caleb's free . . . if freedom means endless nagging from a transition coach and the prying eyes of the entire town. Coming home should feel good, but his family and ex-girlfriend seem like strangers.

Caleb and Maggie are outsiders, pigeon-holed as "criminal" and "freak." Then the truth emerges about what really happened the night of the accident and, once again, everything changes. It's a bleak and tortuous journey for Caleb and Maggie, yet they end up finding comfort and strength from a surprising source: each other.