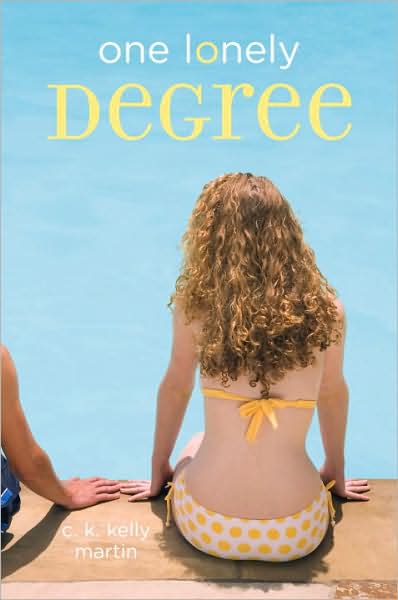 One Lonely Degree
by C. K. Kelly Martin
Finn has always felt out of place, but suddenly her world is unraveling. It started with The Party. And Adam Porter. And the night in September that changed everything. The only person who knows about that night is Audrey—Finn's best friend, her witness to everything, and the one person Finn trusts implicitly. So when Finn's childhood friend Jersy moves back to town—reckless, beautiful Jersy, all lips and eyes and hair so soft you'd want to dip your fingers into it if you weren't careful—Finn gives her blessing for Audrey to date him. How could she possibly say no to Audrey? With Audrey gone for the summer, though, Finn finds herself spending more and more time with Jersy, and for the first time in her life, something feels right. But Finn can't be the girl who does this to her best friend . . . can she?
Just got this in the mail :) Look for a review soon!
Crash into Me
by Albert Borris
Owen, Frank, Audrey, and Jin-Ae have one thing in common: they all want to die. When they meet online after each attempts suicide and fails, the four teens make a deadly pact: they will escape together on a summer road trip to visit the sites of celebrity suicides...and at their final destination, they will all end their lives. As they drive cross-country, bonding over their dark impulses, sharing their deepest secrets and desires, living it up, hooking up, and becoming true friends, each must decide whether life is worth living—or if there's no turning back.
Killer (Pretty Little Liars Series #6)
by Sara Shepard
Just Like That
by Marsha Qualey
Things change so suddenly. one day Hanna has a long-term boyfriend; the next, she realizes she doesn't have strong feelings for him and breaks up with him. one day Hanna trusts her two best friends completely; the next, all of that trust is toppled. And then Hanna finds herself the bearer of a major secret: she was the last person to see two teenagers before they died in an accident on the icy lake. she can't tell anyone, so when Hanna finds herself drawn to will, the elusive boy she's noticed around town, the kind of boy who'd increase any girl's pulse, she doesn't hold back. what she learns about him will astonish her. but what she learns about herself-her friendships, her family, her life-will affect her far more.