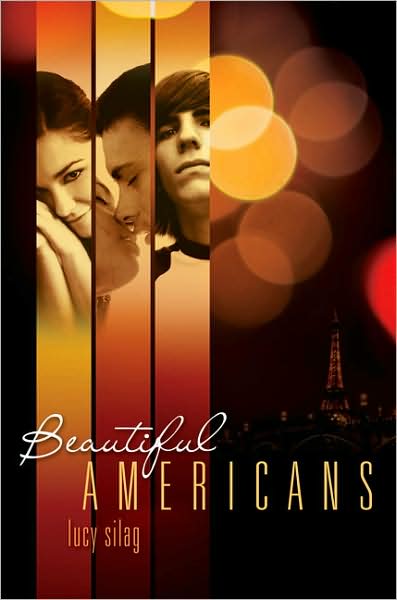 Beautiful Americans
Lucy Silag
Razor bill
$16.99 Hardback US
January 2009
FTC: This is my book that I bought. I did not receive it from the author or publisher.

Characters 20/20
Plot 20/20
Setting 20/20
Cover 18/20
Ending 20/20
Total grade: 98% A

Sexual content: 10/20
Violence: 0/20
Drugs: 5/20
Underage drinking: 15/20
Swearing: 10/20
Total rating: 15+


Summary: (goodreads)
What happens in Paris...
Secrets--PJ's deep blue eyes and angelic long blond hair conceal a truth that's anything but. Will her dark past stay where it belongs in the backwoods of Vermont, or haunt her in the city of light?

Passion--Always the good girl, Olivia plans to twirl her way to the top of the Parisian ballet scene. But that's not supposed to include dancing on a table all night...or stumbling into the arms of the wrong boy.

Lies--With his emo-trendy bedhead, hilarious comebacks and Southern drawl, Zack could win over anyone. Too bad he's after the only one who's forbidden...

Scandal--All Alex wants from Paris is to nab that berry-red Dior coat and seduce the perfect penny-loafer-wearing boy - and Alex always gets what she wants. But will her scheming pay off? Or is she risking more than she knows...?

Alex, Olivia, Zack and PJ are spending a year at the prestigious Lycée de Monceau in the sparkling city of Paris. This is their chance to sip cafe au lait in Le Marais, throw secret parties in their host families' Versailles-size apartments, and have the time of their lives. But when the secrets they thought they left behind come out, everything could be ruined…

My Thoughts:
I absolutely loved this book! I had seen a few reviews that were not so great but I like to be my own judge. I feel that I can be a bit over critical of books so for me to love one its for real.

There were so many characters in this book and they were all so unique. I found a part of myself in each and every one of them!

The plot was very unique too. Come on, foreign exchange AMERICAN students? Not something we really ever read about! We should though because it was super fun. I have the sequel in my TBR pile and I don't know how I'll wait for its turn! What a cliff hanger!

I recommend this book to all of my readers! Give it a try!!

Quotes:
Here is a random quote (or 2) I found opening to a random page:

"What were they taking pictures of?"

"Leave her alone!" I yell as people heckle her.