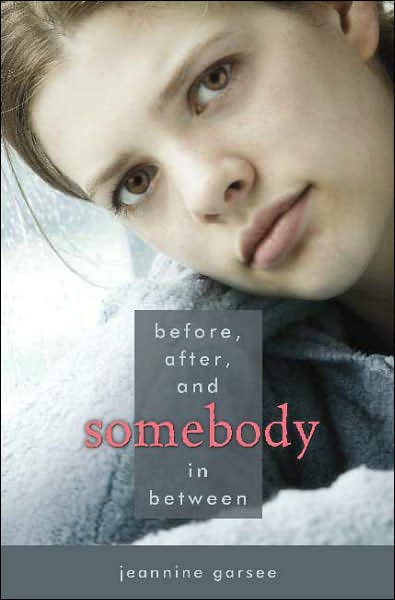 Before, After, and Somebody in Between
by Jeannine Garsee
Summary: (Barnes and Noble)
My sympathy fades as Chardonnay twists around to spread her lips in a demented grin. Her long yellow teeth probably haven't seen a toothbrush in months. I take a chance and smile back, and what do I get? A pudgy middle finger jabbed under my nose.
My next thought is: Wow. I may not even survive homeroom.
One hour into her first day of tenth grade, Martha Kowalski knows she's really in trouble. The school bully, Chardonnay, has already threatened her life—and at home, things are even worse. Martha's mom, fresh out of rehab, is shacking up with an obnoxious jerk in a neighborhood that can only be described as a "ghetto."
More than anything she's ever wanted, Martha wants to play the cello. But even music becomes dangerous to her health—because nothing is what it seems in this place. With her mother's willpower dissolving, Martha watches helplessly as her own dreams slip further away.
But in an exhilarating twist that would stun even Cinderella, everything changes. A wealthy lawyer invites her into his family's home and Martha is given a chance to start over. The warm, caring Brinkmans treat Martha like one of the family and even though it feels so right, she knows they can't be as perfect as they seem. And she knows that this fairy tale can't last forever…
Why: It sounds unique and I hardly know anyone who has read it!