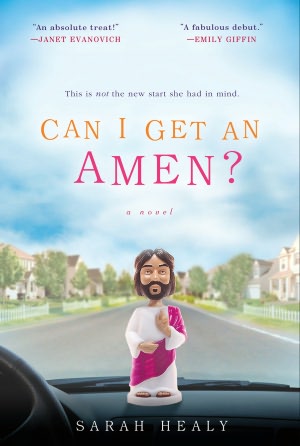 Title:
Can I Get An Amen?
Author: Sarah Healy
Publisher: Penguin
Release: 6/5/2012
Source: Publisher
Grade: B
Audience: Adult
Synopsis:
Growing up, Ellen Carlisle was a Christian: she went to Jesus camp, downed stale Nilla wafers at Sunday school, and never, ever played with Ouija boards. Now, years later, when infertility prevents her from giving her ambitious attorney husband a family, she finds herself on the brink of divorce, unemployed, and living with her right-wing, Born Again Christian parents in her suburban New Jersey hometown. There the schools are private, the past is public, and blessings come in lump sums.
Then Ellen meets a man to whom she believes she can open her heart, and she begins to think that maybe it's true what they say, that everything happens for a reason… Until all that was going well starts going very badly, and Ellen is finally forced to dig down deep to find her own brand of faith.
My thoughts:
I have been trying to make a dent in my adult review pile, which is why you have seen so many adult reviews lately. I will admit I am getting a bit burnt out on adult books, even before I started reading this one so it is probably time I take a nice break with some more YA.
This sounded like a book I could connect with. I was pretty excited to review it. Ellen had a childhood similar to mine. I grew up going to church camp and Sunday school. I never had a desire to mess with a Ouija board but I was banned from playing "fib finder". As I grew up I had to find my own faith, as did Ellen. That being said I had every reason to believe I would find a connection. I did not though. That is the only reason I would bring my grade from an "A" to a "B" for this book. There was just something about her that bugged me.
The plot was interesting and it moved at a good pace. There was a wonderful mix of hurt and love within the story. I honestly felt every emotion imaginable while reading this book. For that I applaud the author. It takes talent to do that successfully.
I recommend this book to my adult readers who can look past Ellen and want a story full of mixed emotions. It is not "too religious" so do not let that be what keeps you away.