If your new to my blog let me fill you in. Must Monday is a post where I feature a book that has yet to be released that I want to read. I give you the synopsis and explain why I want to read it.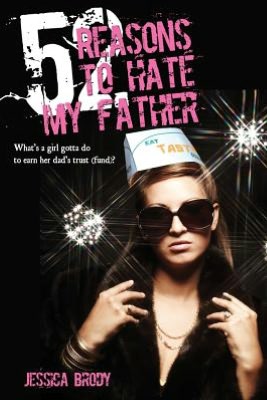 52 Reasons to Hate My Father
Jessica Brody
Farrar, Straus and Giroux
7/3/2012
Synopsis:
Being America's favorite heiress is a dirty job…but someone's gotta do it.
Lexington Larrabee has never had to work a day in her life. After all, she's the heiress to the multi-billion-dollar Larrabee Media empire. And heiresses are not supposed to work. But then again, they're not supposed to crash brand-new Mercedes convertibles into convenience stores on Sunset Boulevard either.
Which is why, on Lexi's eighteenth birthday, her ever-absent, tycoon father decides to take a more proactive approach to her wayward life. Every week for the next year, she will have to take on a different low-wage job if she ever wants to receive her beloved trust fund. But if there's anything worse than working as a maid, a dishwasher, and a fast-food restaurant employee, it's dealing with Luke, the arrogant, albeit moderately attractive, college intern her father has assigned to keep tabs on her.
Why I want to read it:
The main thing that made me attracted to this book is the word heiress. There is usually so much drama that surrounds books like this. It makes for a nice escape from my reality. It is easy to slip into another world like this and feel instantly lost. Basically, it makes for a nice chage.
On sale tomorrow!