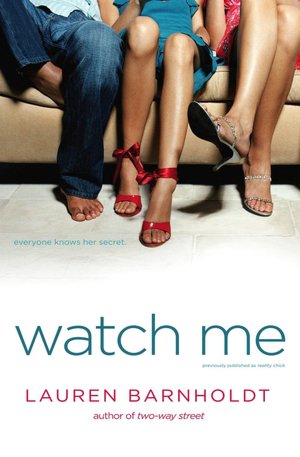 Watch Me
Lauren Barnholdt
Simon Pulse
7/6/2010

Synopsis:
She thinks she has nothing to hide…
Ally has everything under control. She's about to move into a house full of strangers and have her life broadcast to the world, but as long as she still has her long-distance boyfriend, Corey, nothing can go wrong. Nothing, that is, until Ally starts spending time with her housemate Drew, the hot and sensitive guy who always seems to be around when she needs someone the most.
As suspicions and lies start pulling Ally and Corey apart, she's not sure if she can trust anyone, not even herself. Ally is about to learn the hard way that life is what happens when everyone is looking, and it doesn't always capture her good side….
My Thoughts:
Characters 20/20
Plot 20/20
Setting 18/20
Cover 20/20
Ending 20/20
98% A
I got this book as a Christmas gift from my best friend a year ago. I was super excited to read it but because my review shelf takes priority I am just getting to it. It was so good, I can't wait to get my hands on another book by Lauren Barnholdt. From page 1 I was taken with this story. It was a delectable mix of romance, drama and even some comedy.
The characters in this story were just like the kids you probably went to high school with. You have the player, the guy that looks too good to be true, the mislabeled slut, the virgin and the girl next door. It was very easy to feel a connection and mingle with these characters because I felt like I have known them my whole life.
The plot could be considered typical to any book about reality tv at first glance. As you read further in to it you see so much more. Instead of just the tv aspect, your focus will fall many different directions. The romance is both cute and sexy at times. The drama reminds you that this is about reality TV. As the plot reached its end the story was at it's best. The end was adorable but a little predictable. I wouldn't have wanted it any other way.
I felt like the setting could have been described a little more. I would have liked to know what the house looked like a lot more than the brief mentions throughout. The campus was barely described at all. It did not take away that much from the book, it just could have been better.
I LOVE this cover. It is so cute. My eyes go straight to those red shoes. It made me not only want those shoes but want to read this book as well. I like that you can't see the faces so you can imagine the characters yourself.
I recommend this book to
teens 13+.