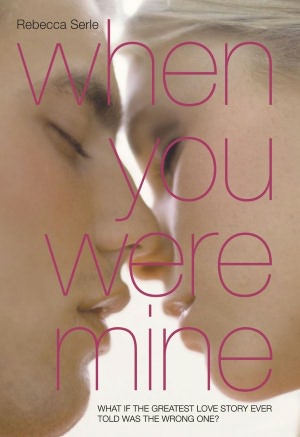 When You Were Mine
Rebecca Serle
Simon Pulse
5/1/2012
Synopsis:
What's in a name, Shakespeare? I'll tell you: Everything.
Rosaline knows that she and Rob are destined to be together. Rose has been waiting for years for Rob to kiss her—and when he finally does, it's perfect. But then Juliet moves back to town. Juliet, who used to be Rose's best friend. Juliet, who now inexplicably hates her. Juliet, who is gorgeous, vindictive, and a little bit crazy...and who has set her sights on Rob. He doesn't even stand a chance.
Rose is devastated over losing Rob to Juliet. This is not how the story was supposed to go. And when rumors start swirling about Juliet's instability, her neediness, and her threats of suicide, Rose starts to fear not only for Rob's heart, but also for his life. Because Shakespeare may have gotten the story wrong, but we all still know how it ends….
My thoughts:
Characters 20/20
Plot 15/20
Setting 20/20
Cover 20/20
Ending 20/20
95% A

I hadn't been sent many YA books to review in a while. As you can tell I have been reviewing a lot of adult. When I received this one I was ecstatic. There is just something special about YA that adult can never compare too. So the fact that this was YA started me off on the right food.
I was lucky enough to never read Romeo and Juliet in high school. I have never been a huge Shakespeare fan. I do know the story though and retellings of his work are usually fun. I was not disappointed with this at all. The characters were very well developed. At one point I had to stop and ask myself why I was getting so attached and remind myself that I am in fact not Rosaline. Cheesy as that sounds it is true. The characters were also incredibly diverse and did not fit cookie cutter teen stereotypes. I enjoyed the plot, I just felt like it took a little too long to get the main story going. Other than that I have no complaints.
The setting for this book was Cali. I can't help but love any book set there. Maybe it's because I'm from Oregon and never get to see that sunshine they describe? The cover is simple, yet cute. It expresses the nervousness and desire before a first kiss. As for the ending, wow! I guess I should have expected what happened to happen (don't worry, no spoilers) but I was too engrossed in the story to even think about what was to come.
I recommend this book to
teens
who like drama and romance in their books.
*Compliments of the publisher.