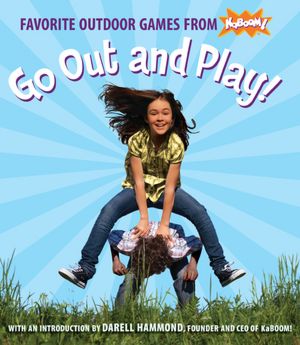 Go Out and Play
KaBOOM
Candlewick
3/13/2012
From the publisher
Summary:
Go outside and play! Here, at your fingertips, are how to's for more than seventy best-loved games, all set to spread the fun of active play to kids of all ages.
Do you know how to draw a hopscotch grid? What's the silliest challenge in the game of sardines? How do you keep from being "out" in SPUD? Is there any way to escape the blob? This lively, infectious guide to games runs the gamut from classic to contemporary: kick the can, freeze tag, blindman's bluff, red light green light, four square, duck duck goose, and so many more. It's all sparked by KaBOOM!, a nonprofit with a passion for creating outdoor play spaces nationally and around the world.
For KaBOOM!, play is serious business! So this guide also includes tips for adults on how to encourage and facilitate outdoor play as well as a wealth of resources on how to help create more play spaces in your own community.
My thoughts:
 This is not really a book I can review but I would love to draw some attention to it. I found it to be a wonderful book for anyone who spends time with kids. I use to be a nanny and this would have been a great place to get new ideas for the boys. You can escape from the same game of hide and seek and try a new version of the game. Most of the games are ones you have heard of before but forget when it is time to play.
I suggest all parents, nannies and babysitters pick up a copy of this one.