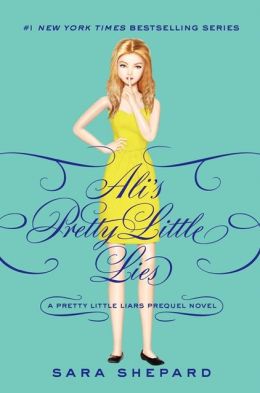 Ali's Pretty Little Lies
Sara Shepard
Pretty Little Liars
series
HarperCollins
1/2/2013
Rated:
A
For:
Teens
Synopsis:
Before there was A, there was Alison DiLaurentis. Boys wanted to date her, girls wanted to be her, and somebody wanted her dead. . . .
It's the end of seventh grade, and Alison DiLaurentis and her friends are the girls of Rosewood Day. Ali runs her clique with an iron fist, and she's got enough dirt on Hanna, Emily, Aria, and Spencer to keep them in line. But Ali's hiding a dark secret of her own, something so huge it would destroy everything if it ever got out. She's desperate to keep the perfect life she's worked so hard to build, but in Rosewood deadly secrets have deadly consequences. . . .
Set in the weeks leading up to Ali's murder, this special Pretty Little Liars tale is told by the prettiest little liar of all: Ali herself. For the first time ever, we see how the mystery began . . . and how Alison DiLaurentis's life ended.
My thoughts:
I was incredibly surprised by this book. I only read it because I feel like I have to finish the series but now I am glad that I did. I really have no desire to read about a bunch of middle school kids running around because I am way past that stage in life. This book had no childish games being played. The girls seemed way older and more mature than any middle school kid I have ever met. They were going through very adult things. Do not let their age keep you from reading this book.
I really liked that this book helped me to see how things came to be. The story is not as black and white as we think it is. Was Ali really just a bitch? Is there more to the story? You will find out in this book. We have known all along that there was something that made each girl want to be her friend. From the outside I have always been skeptical because Ali seems like a real pain the butt to me. After this installment I feel like I have a better understanding. It renewed my faith in this series a little bit.
The storyline was pretty typical for this series. Not a lot at first but about half way through you can't put it down. The story became very addicting, as always. Some parts were cheesy and predictable but for the most part it was way better written then the last few books in the series.
I recommend this to fans of the series. I recommend the series to teens and reluctant readers.