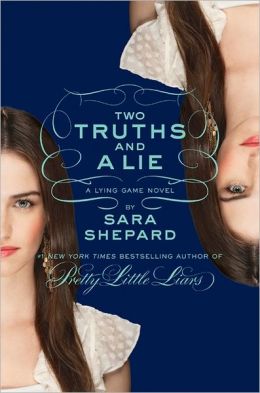 Two Truths and a Lie
Sara Shepard
HarperCollins
2/7/2012
From:
a friend
Grade
: B
Rating:
Teen
Synopsis:
My killer is out there.

And my sister might be next.
Two months before I died, my best friend's brother went missing. I have no idea where Thayer is or why he left, but I know it's my fault. I did a lot of horrible things while I was alive, things that made people hate me—maybe even enough to kill me.
Desperate to solve my murder, my long-lost twin, Emma, is pretending to be me and looking into the many mysteries I left behind. She's uncovered my closest friends' darkest secrets, but she's never had the chance to dig into Thayer's past—until now.
Thayer's back, and Emma has to move fast to figure out if he's after revenge . . . or if he's already gotten it.
My thoughts:
This was by far the best book I have read in this series. Emma has kind of annoyed me from the very first book. I just cannot comprehend how someone so smart can be so stupid. I just want to scream at her for some of the choice she makes. Does she want to get herself murdered? Maybe this is the very reason I can't watch scary movies. I get a little too involved. This was the first book where I thought that she was actually a somewhat decent character.
The plot thickens in this book. Just when you think you have it all figured out something happens to make your vision unclear. This was the whole reason I enjoyed this book. It did not feel as predictable as the first two. I can appreciate that in a mystery.
After reading this book I would recommend this series over Pretty Little Liars. I can only hope she doesn't drag it on forever like she does with PLL.