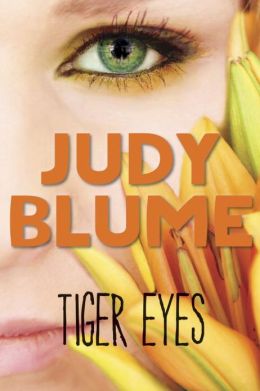 Tiger Eyes
Judy Blume
Synopsis:
Davey has never felt so alone in her life. Her father is dead—shot in a holdup—and now her mother is moving the family to New Mexico to try to recover.
Climbing in the Los Alamos canyon, Davey meets the mysterious Wolf, who can read Davey's "sad eyes." Wolf is the only person who seems to understand the rage and fear Davey feels.
Slowly, with Wolf's help, Davey realizes that she must get on with her life. But when will she be ready to leave the past behind and move toward the future? Will she ever stop hurting?
Resettled in the "Bomb City" with her mother and brother, Davey Wexler recovers from the shock of her father's death during a holdup of his 7-Eleven store in Atlantic City.
My thoughts:
This is my all time favorite book. I have read this book 7 or 8 times but not since I have been an adult. With the upcoming movie release (this girl is working on getting tickets to the Atlanta, GA premiere) I decided I had to read it again. This time my husband and I read it together! I was so happy that he loved it. I would go to put it down after reading to him for half an hour and he would beg me to read just one more chapter. Davey has the sarcastic spunk that he appreciates.
I have yet to read a book the dives so realistically into the depths of loss. Usually we see the loss from how one character reacts to the story. Judy was able to show us just how changed everyone in the story was because of this death, all while keeping the main focus on Davey. You can feel the hurt and desperation as if you were a part of the story.
Each character is incredibly well developed. You see all sides of them at some point. Davey's friend Jane is one of my favorite characters because of that. She is seen so differently through each persons eyes. Her parents see her as an angel, her teachers see her as intelligent, and Davey see's her as... actually I'm going to make you read and find that one out.
I recommend this book to everyone. I know I am a crazy fan girl but I accept that. I remember in Middle School my English teacher offered extra credit to those who wrote an author and got a response. I wrote Judy (not that I needed extra credit, can you say overachiever) and was so excited that she wrote back. Pretty sure that was the highlight of 7th grade....