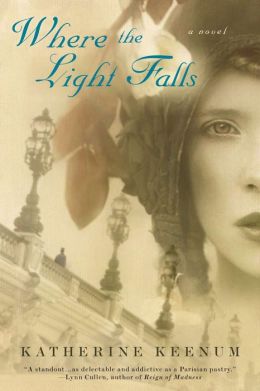 Where the Light Falls
Katherine Keenum
Penguin
2/5/2013
From: The publisher
Grade: B
Audience: Adult
Synopsis (Barnes and Noble):
As the Belle Epoque dawns, Paris attracts artists from everywhere. One is Jeanette Palmer, daughter of a prominent Ohio family, who has left Vassar College under a cloud of scandal.
Amid the city's great bohemian neighborhoods and teaching studios, Jeanette befriends other female artists, as well as an American Civil War veteran named Edward Murer. She begins to achieve a level of artistic success. And her happiness increases as she and Edward grow more intimate with each other.
But Edward is plagued by his demons and addicted to laudanum—and as the world opens its arms to Jeanette, and the society around her is transformed by cultural and scientific innovations, she must resolve a conflict utterly new to so many women: the choice between ambition and love.
My thoughts:
Historical fiction is very touch and go with me. I think I have to be in the right frame of mind when I start reading it. I am a huge contemporary fan and when I do go back in time I prefer less 1950's and up. This book somehow made me want to read it from the moment it arrived at my door. I settled in to read it that night.
The characters were beautifully developed and I enjoyed learning their stories. It is so rare when you like every character in a story. I could not help but feel that way with these people.
The story had a easy flow and kept you turning the pages. I stayed up way too late reading this book because of that. The story developed perfectly over time, not giving you too much too son. That played a key role in my desire to read it.
I recommend this to all my adult readers.