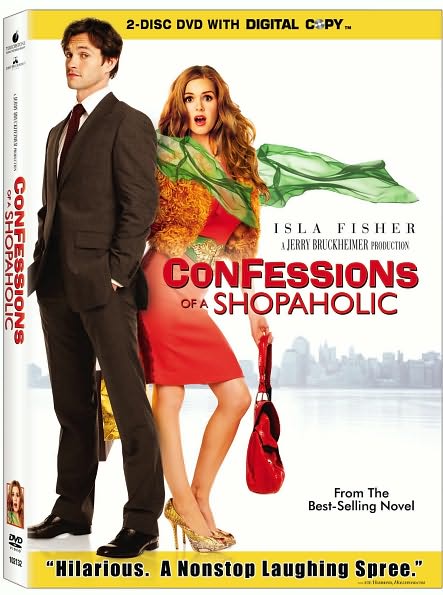 Title: Confessions of a Shopaholic
Claim to Fame: Isla Fisher
Grade: A
Rating: PG
Summary: (Amazon.com)
Fall in love with the adorable Becky Bloomwood (Isla Fisher) in the hilarious romantic comedy Confessions Of A Shopaholic. Becky s desperate for a job writing for a high-fashion magazine in glamorous New York. She gets her stilettos in the door writing a personal finance column at a sister publication. Much to her surprise, her column, The Girl In The Green Scarf, becomes a hit, and she falls head over high heels for her handsome, overworked boss (Hugh Dancy). But Becky has a secret that leads to some hilarious high jinks that could unravel it all.

Title: 5/5
The title is super amazing. Who doesn't want to see a movie with a title like that? I am happy that they kept it the same as the book or it would have ruined it for me. Changes that big should not be made.

Cover: 5/5
The cover is gorgeous and fits the movie perfectly! It showed us many insights into the movie and made me even more intrigued. You cant judge a book by its cover, but a movie…

Plot: 5/5
The plot was fantastic. It was so very unique. I have never seen a movie about a shopaholic before and the book was great. It was a tad annoying how they changed some major aspects though.

Acting: 4/5
The acting in the movie was good but a few parts could have been better. I didn't like the way the roommate was portrayed but it was okay. I would have kept the same actress but shown her differently, with different lines.