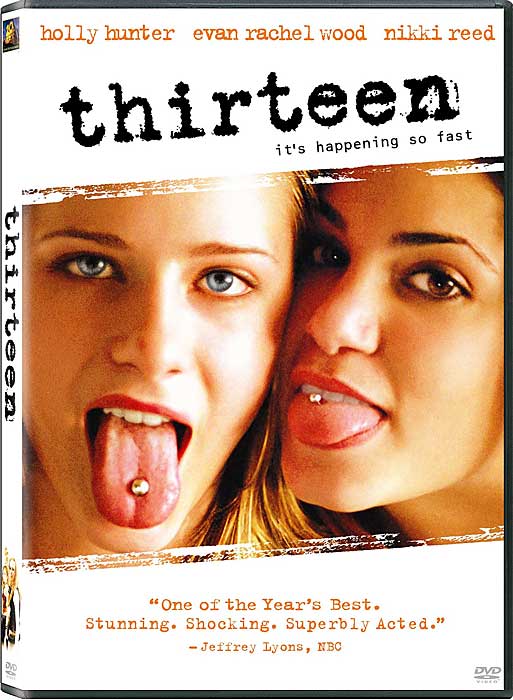 Title: Thirteen
Claim to Fame: Nikki Reed
Grade: B
Rating: R
Summary: (Amazon)
gut-wrenching portrait of adolescence, Thirteen is made all the more powerful because it was co-written by a genuine teenage girl, Nikki Reed, who also co-stars in the movie. Tracy (Evan Rachel Wood), a serious good student, finds herself needing to express her anger and resentment at her fractured family life. To rebel, she pursues a friendship with the reckless, alluring Evie (Reed), who seems to have all the cocksure freedom that Tracy desires. What follows is both harrowing and compelling: Tracy becomes enmeshed in a relationship with Evie that empowers Tracy and drags her deeper into the misery she wants to escape--and terrifies her mother (Holly Hunter), who struggles desperately to hold on to her daughter's love.

Title: 4/5
The title did fit the movie but something told me it could have been a bit better. A one world title can't show enough insight into the plot.

Cover: 5/5
The cover fit this movie perfectly. It showed the wild side of the teen girls with the tongue ring and it didn't get too flashy.

Plot: 4/5
Overall the plot was great but left a few too many empty holes. Another spot with room for improvement.

Acting: 4/5
A few parts in this movie could have been cast better. Overall the acting was just above mediocre.