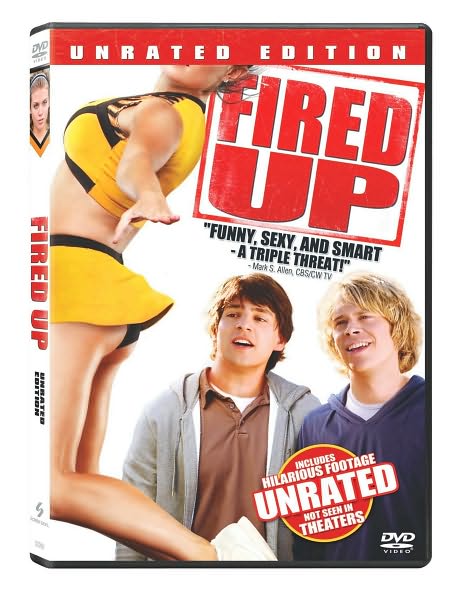 Title: Fired Up!
Claim to Fame: No super big name actors
Grade: B
Rating: Unrated Version
Summary: (Amazon)
The word "shameless" does not begin to describe Fired Up, a sneaky, self-aware teen comedy about two high-school jocks who join the cheerleading squad so they can score with girls at cheer camp. Naturally, they find themselves starting to care and end up committed to helping their squad win the big competition at the end. But while trotting through the formula paces, Fired Up manages to subvert the cliches of teen movies while fulfilling them at the same time. It's really kind of genius. Fusing the smart sassiness of Bring It On with the hyperactive self-referentiality of Dude, Where's My Car?, Fired Up wallows in the luscious flesh of its cast (both male and female) while pushing the horndogginess to ridiculous heights; it casts an absurdist eye on cheerleading while making savvy use of sports-movie plot devices; it starts out with the rigidly defined sex roles of high school, but by the end has mocked masculinity, femininity, homophobia, and furries(!). Nicholas D'Agosto (Heroes) and Eric Christian Olsen (Dumb and Dumberer: When Harry Met Lloyd) play the jocks with just the right mixture of likability and preposterousness.

Title: 5/5
The title was great and defiantly fit for the movie. It was unique and not the same cheer titles we'd been seeing over and over again!

Cover: 4/5
The cover was good but did have a degree of dullness to it. I didn't like how it didn't show much insight into the movie but it was still a nice cover.

Plot: 4/5
The plot was good but at times left room for improvement. Some holes were not filled and some of the crude humor was unnecessary and not even a part of the movie.

Acting: 4/5
The acting was good but not FANTASTIC! There were a few parts that could have been casted a little better when it came to some cheerleaders. Other parts were cast correctly!