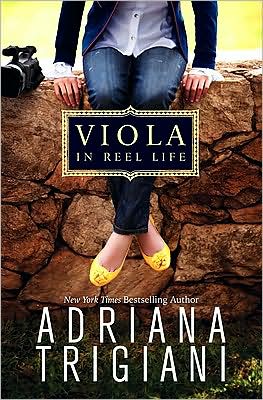 Title: Viola in Reel Life
Author: Adriana Trigiani
Publisher: Harperteen
Price: $16.99 USD HB
Release: September 2009

Grade: A
Rating: 12+
Summary: (Barnes and Noble)
I'm marooned.

Abandoned.

Left to rot in boarding school . . .

Viola doesn't want to go to boarding school, but somehow she ends up at an all-girls school in South Bend, Indiana, far, far away from her home in Brooklyn, New York. Now Viola is stuck for a whole year in the sherbet-colored sweater capital of the world.

Ick.

There's no way Viola's going to survive the year—especially since she has to replace her best friend Andrew with three new roommates who, disturbingly, actually seem to like it there. She resorts to viewing the world (and hiding) behind the lens of her video camera.

Boarding school, though, and her roommates and even the Midwest are nothing like she thought they would be, and soon Viola realizes she may be in for the most incredible year of her life.
But first she has to put the camera down and let the world in.

My thoughts:
I loved the cover that was chosen for this book! It was not only beautiful but it gave us an insight into what the character was like. The fact that the yellow shoes were included was fabulous! Some real thought was put into this choice.

The title, Viola in Reel Life, was a great choice. The play on words was unique and lovely. The fact that they used Reel not Real shows a tremendous amount of thought.

The characters in this novel were so well developed, it was fantastic! I loved how different each one was and how the author took the time to fully develop each and every one.

This novels plot was very unique. I loved that a large aspect was boarding school. I have always wanted to go to boarding school so that always draws my attention. The boarding school aspect in itself was unique. The film aspect blew it over the top.

Boarding school was the perfect setting for this novel. Because this book was so focused on film Indiana was a nice choice as well. There was pretty scenery to be vividly described.

The end of this story was good but it left one big hole totally unfilled. I felt that because it was left unanswered it took away from the ending.