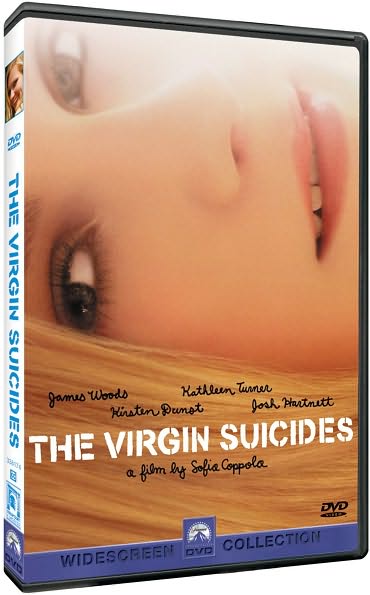 Title: The Virgin Suicides
Claims to Fame: Kirsten Dunst
Grade: D
Rating: R
Summary: (amazon.com)
Played in a delicate minor key, the film is heartbreaking, mysterious, and soulfully funny, set in a Michigan suburb of the mid-1970s but timeless and universal to anyone who's been a teenager. The four surviving Lisbon sisters lost a sibling to suicide, and as its title suggests, the film will chart their mutual course to oblivion under the vigilance of repressive parents (Kathleen Turner and James Woods, perfectly cast). But The Virgin Suicides is more concerned with life in that precious interlude of adolescence, when the Lisbon girls are worshipped by the neighborhood boys, their notion of perfection epitomized by Lux (Kirsten Dunst) and her storybook love for high-school stud Trip (Josh Hartnett). Unfolding at the cusp of innocence and sexual awakening, and recalled as a memory, The Virgin Suicides is, ultimately, about the preservation of the Lisbon sisters by their own deaths--suspended in time, polished to perfection, and forever untainted by adulthood.

Title: 5/5
The title was super awesome and lead me to believe that this would be a fantastic movie.

Cover: 3/5
The cover was average in my opinion. It seemed okay but nothing that really pulled me in. They could have done better.

Acting: 3/5
The acting in this movie was worse then I had expected. It wasn't horrible but it was very average.

Plot: 2/5
The Plot was dull and left much to be desired. Too many blank holes needed to be filled.