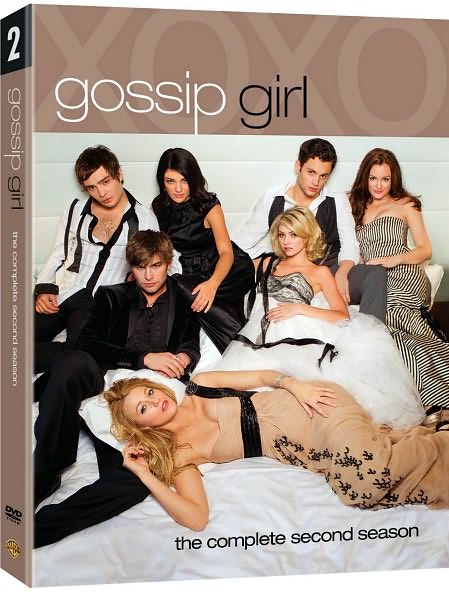 Title: Gossip Girl Season 2
Claims to Fame: Leighton Meester and Blake Lively
Grade: A
Rating: TV-14
Summary: (Amazon)
It's senior year for our beloved Upper East Siders, and the drama is at an all-time high. Applying for college is only one small part of the story, as new romances (and some not-so-new romances) bloom and fade, scandals erupt at every turn and alliances shift even faster than Gossip Girl can send an update. Families and reputations are destroyed and made; so are fortunes. And even the strongest friendships are tested. In this sizzling 25-episode, 7-disc Season Two, you never know what's next for Serena, Blair, Dan, Nate, Jenny, Chuck and Vanessa. Good thing Gossip Girl is always there to provide us with the latest, juiciest info!

Title: 5/5
I love how the title is the same as the book. It wouldn't have gotten as much publicity and would have been strange if they changed the title for this tv series.

Cover: 4/5
The art on the second season cover was even better then the first! I loved how glamorous all the pictures were. What bugged me was the one picture where Jenny and Dan appear to be snuggling. Too close for comfort guys!

Plot: 5/5
The plot thickens in this second season. There is more to be discovered as many secrets begin to unravel. The final episode leaves you wanting more! Good thing I waited till recently to start watching Gossip Girl. I don't know how I would have waited so long for season three!

Acting: 5/5
The acting in the show is superb! I couldn't think of better people to play the parts then those who were casted. I feel like I'm actually watching someone's real life, not a scripted TV show.