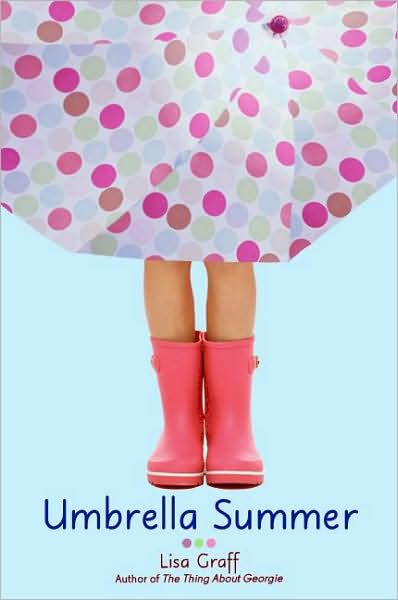 Title: Umbrella Summer
Author: Lisa Graff
Publisher: HarperCollins
Price: $15.99
Release: June 2nd 2009

Grade: A
Rating: 8+
FTC: I received this book before December 1st 2009 from the publisher.


Summary: (Amazon)
Annie Richards knows there are a million things to look out for—bicycle accidents, food poisoning, chicken pox, smallpox, typhoid fever, runaway zoo animals, and poison oak. That's why being careful is so important, even if it does mean giving up some of her favorite things, like bike races with her best friend, Rebecca, and hot dogs on the Fourth of July. Everyone keeps telling Annie not to worry so much, that she's just fine. But they thought her brother, Jared, was just fine too, and Jared died.
It takes a new neighbor, who looks as plain as a box of toothpicks but has some surprising secrets of her own, to make Annie realize that her plans for being careful aren't working out as well as she had hoped. And with a lot of help from those around her—and a book about a pig, too—Annie just may find a way to close her umbrella of sadness and step back into the sunshine.
My Thoughts:
First off I would like to say look at this cover. This is the most adorable cover in the history of covers! I want a polka dot umbrella and pink boots now! Next I would like to say ADORABLE! I know many of my readers are teens and probably wouldn't buy this book for themselves but many of you have little sisters, a few of you are moms! Go buy this book now! Not only is it super cute the message was amazing. Even if your child/little sister is not ready for a chapter book buy it! You can read it to them. There were so many important messages that should not be missed.

Annie was adorable, think Junie B. Jones but a lot less annoying and with better grammar. You will experience loss and love in this novel. It handles all these issues in an age appropriate way.