Before I begin my review I would just like to say... MY SISTER JUST CALLED MY BOOK REVIEWING STUPID :'( It was very upsetting. I love reviewing and get upset when people put it down. Anyways... Moving on.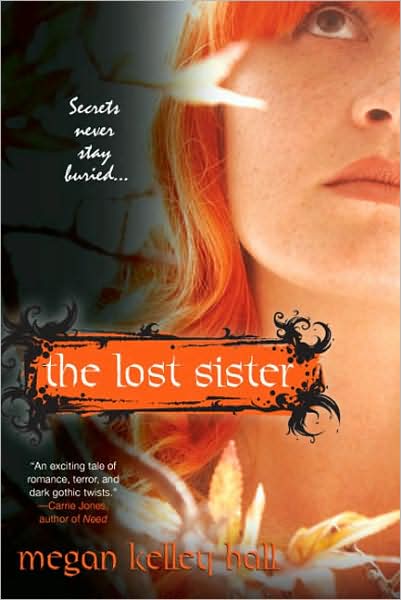 Title: The Lost Sister
Author: Megan Kelly Hall
Publisher: Kensington
Price: $9.95
Release: August 2009
FTC: I received this book before December 2009 from the publisher.

Grade: A
Rating: 13+


Summary: (Amazon)
Sisters are born, not chosen. . .

Maddie Crane is grappling with the disappearance of Cordelia LeClaire, and trying to escape the grasp of The Sisters of Misery--an insidious clique of the school's most powerful girls, whose pranks have set off a chain of horrific events, and who have Maddie in their sights-
Beware the sister betrayed. . .

Now in a prestigious boarding school far away from her mysterious hometown of Hawthorne, Massachusetts, Maddie feels free from danger. But when an unmarked envelope arrives at her dorm containing a single ominous tarot card, Maddie realizes with terror that some secrets won't stay buried. Knowing she must return to Hawthorne--a town still scarred by the evil of the Salem witch trials--Maddie prepares to face the fears of her past. . .and the wrath of the sister she wronged.

My Thoughts: I thought that this novel was incredibly well written. The suspense kept me going through the whole thing; I felt that it was written in a way that even those occasional book readers could love it. I think anyone who has read the first book should go buy a copy now!!!

Random Quote: *opening book to random page* It opens on page 151. *Touching random spot*.
For a moment, Maddie could almost feel the tender touch of Tess as she led her out of the store last year.

Second Helpings:
Mrs. Magoo gave it an A. See her wonderful review! http://www.mrsmagooreads.com/2009/08/lost-sister.html
The Book Muncher gave it a 4.25. Here fantastic review: http://thebookmuncher.blogspot.com/2009/08/lost-sister-by-megan-kelley-hall.html