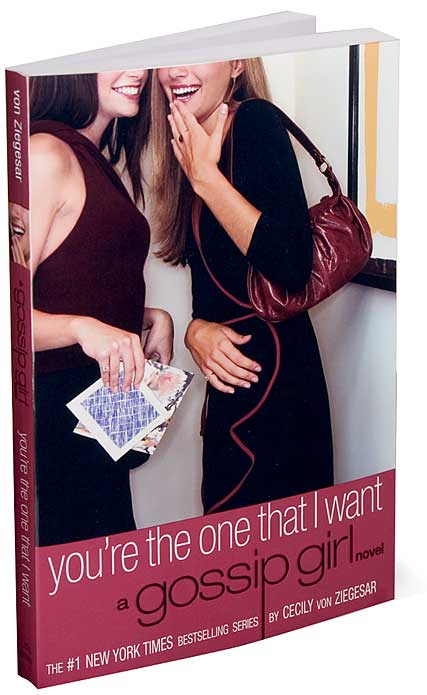 Title: You're the One That I Want
Author: Cecily von Ziegesar
Publisher: Little Brown
Price: $9.99 USD PB
Release: October 2004
FTC: I purchased this novel with my own money. I did not receive it from the publisher and am not being paid in any way to review this book.

Grade: B
Rating: 14+
Summary: Amazon
Enter the world of Gossip Girl -- and watch us drown in luxury while indulging in our favorite sports -- jealousy, betrayal, and late-night bar-hopping. Well, the moment of truth has finally arrived. Everyone's back from a week of apr?s-ski hot tub fun in Sun Valley and cream-colored envelopes from the Ivy League are beginning to drop all over Fifth Avenue doorsteps. The question is: are the envelopes thick or thin? Has Nate's devotion to his misbehaving heiress dimmed his chances of getting into Brown? Is Blair too busy daydreaming in Eric's old pinstriped oxfords to remember her real mission in life -- Yale?? Hopefully Serena can snap her newest-and-oldest-best-friend out of it. That is, if Serena hasn't already become too much of a vapid, celery-eating supermodel to even care. Everyone is so consumed with who's getting in where that they're forgetting an even more important question: will everyone graduate?

My Thoughts:
I use to LOVE the Gossip Girl series, now I just like it. Why, you might ask. The tv show has ruined it for me. I no longer feel the same connection to the story because I watch the show and it has been taken a whole different direction.

As for this Gossip Girl in general, it was average. There have been better books in the series so this just wasn't A worthy. The Plot was unique and carried on at a good flow but it just bugged me how different it was then this part on the show. I do think everyone should read this series and THEN watch the show. Don't do both at one time because you will constantly be comparing and it does you no good. Just take some time to enjoy these without a designated cast (:

Random Quote:
*I'm opening to a random page* The random page is 126. *Touching Random spot*

He wanted her to feel like the entire night had been a mistake.