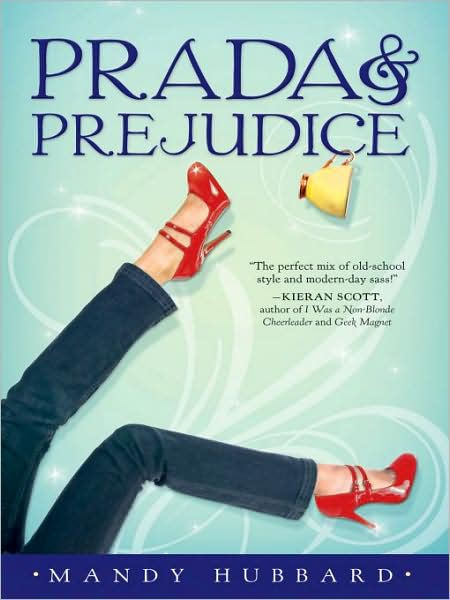 Title: Prada and Prejudice
Author: Mandy Hubbard
Publisher: Razor bill
Price: $8.99
Release: June 11 2009
Ftc: This is my friends book. I did not receive it from a publisher or author.

Grade: B
Rating: 12+
Summary: (Amazon)
Fifteen-year-old Callie's class trip to England is, like most things in her life, remarkably unremarkable. Ever since she was overheard making a derogatory remark about cheerleaders by one of the most popular girls in school, Callie has been permanently on the D list. To her misery and embarrassment, she has been ditched by her class-trip buddy, leaving her stranded at their London hotel. A scheme to join fellow classmates on a surreptitious trip to a hot club leads to her tripping spectacularly over her new Prada heels. Upon waking from her blackout, Callie discovers that she has been transported to Regency England and is now the long-lost American friend of Emily, a well-to-do teenager. True to her character, she makes a series of faux pas with the titled gentry, earning her the disapproval of a matriarch and a dashing 19-year-old duke. Although her adjustment to an 1815 lifestyle is rough, she begins to appreciate her friendship with Emily and her surprising budding romance with the duke. Callie's perpetual awkwardness, chronic foot-in-mouth syndrome, spiritedness, and openness make her genuinely likable. Endearingly funny episodes involving a Heart and Soul pianoforte duet and a CPR rescue in front of an astonished crowd are contrasted with Callie's determination to rescue Emily from an engagement to a suitor 30 years her senior.

My thoughts:
This novel was not what I expected but it was still very good! The plot was obviously super unique and had a nice flow. Callie was a loveable character and the I could just sense how the duke was a major hottie. The chemistry was undeniable which makes for a nice love story. I would say younger teens who like historical romances will love this book!



Random quote: *opening book to random page* The page is 133. *Touching random spot*
You are not a lady. I remember his words and bite back the urge to smile. Is it so easy to forget your whispered promises?