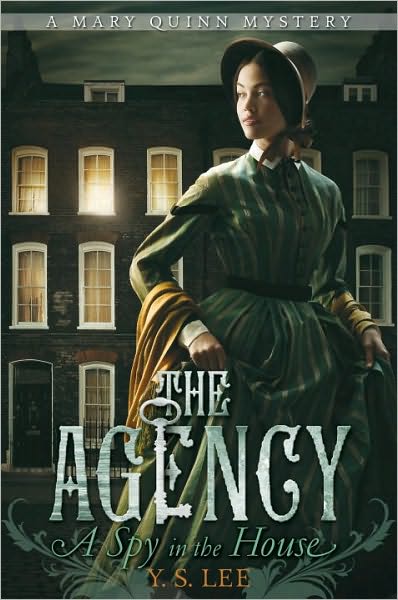 The Agency
Y.S. Lee
Candlewick
$16.99
March 2010
FTC: I received this book from the publisher with the understanding that I would provide an honest review for no compensation.

Characters 20/20
Plot 20/20
Setting 20/20
Cover 15/20
Ending 20/20
Total grade: 95% A
Total rating: 13+
Summary: (Amazon)
She was sentenced to the gallows at age 12. Pickpocket Mary Quinn doesn't care. Her life, nasty and brutish, will also be blessedly short. Then, shockingly, she's rescued and ensconced at Miss Scrimshaw's Academy for Girls. When readers meet Mary after this prologue, she is 17 and bored with her teaching job at the Academy. Happily, there's more going on there than learning. Mary is recruited into the Agency, a secret band of women investigators. Her first job is ostensibly to be a lady's companion. Actually, she's at the Thorold home to observe and discover what she can about the mysterious sinking of Thorold's ships. But Mary's not much for observing and soon finds herself in the midst of murder. The new Agency series is what you'd expect, very well done, and a little more. Mary's feisty, the mystery is solid (if a little boring), and the romantic interest is reminiscent of Jane Austen's Darcy. The secret of Mary's parentage will make an interesting string to run through succeeding books.
My Thoughts:
Although this was defiantly not the book for me, I can appreciate the way it was written. The writing had a flow that was undeniably great! The characters were portrayed in a manner that left no personality traits undefined. The ending was great and left room for the series to continue.

The reason this book wasn't for me I think was the fact that I was turned off from the start. I have a weak stomach when it comes to public hangings. Give me a murder book and I can read it, but a book where it starts with a little girl sentenced to hang just made me sick. If you don't mind that then it is a GREAT book that I recommend you pick up!