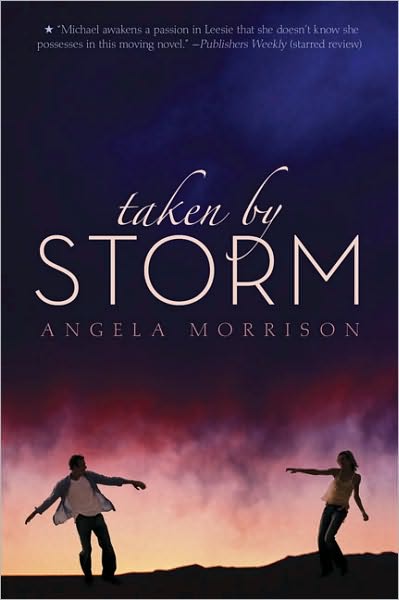 Taken by Storm
Angela Morrison
Razorbill
$16.99
March 2009
FTC: I received this from the publisher with the understanding that I would provide an honest review for no compensation.

Characters 15/20
Plot 15/20
Setting 20/20
Cover 20/20
Ending 20/20
Total grade: 90% A
Total rating: 15+
Summary: (Amazon)
Leesie is a beautiful, straight-laced Mormon desperate to escape high school and the boys who torment her there. Michael is a scuba diver whose parents were killed on a dive trip. He desperately longs to dive again, but terrifying flashbacks of the hurricane that killed his friends and family plague him. Leesie is drawn to Michael's brokenness—she feels she can save him. He is attracted to her purity and beauty. Soon, all the rules Leesie has found easy to obey in the past (no hot-and-heavy kissing, no dating an unbeliever, no sex) are no longer cut-and-dry, and her plan to attend BYU no longer seems so important. Both Michael and Leesie must figure out what matters most to them.
My Thoughts:
This book was not at all what I expected but it was still good. If you are a sucker for adventure and romance this is your perfect book. Lessie is a great character but Michael was not as developed. I felt like part of him that was important to the story was hiding.

The mix of the plot was great! There were many aspects and the story was uncovered in unique ways. The problem was it took a bit too long to get going. Once it did though it flew. The setting of this book was vividly shown! That was fantastic.

I love the cover of this book that I have. The hardback version. It really makes me see the characters even more. As for the ending, I couldn't think of a better way to pull this book to a close.
I recommend this book to my not too girly romance fans.