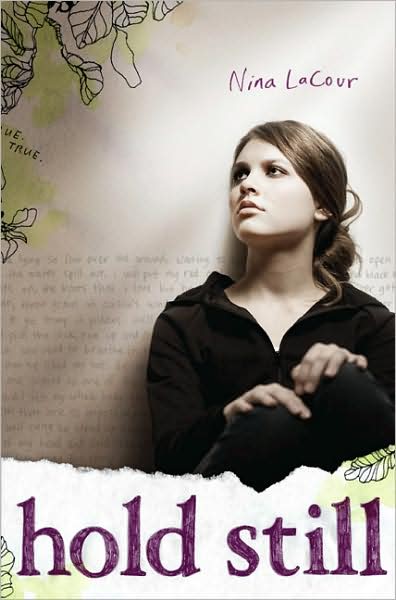 Hold Still
Nina LaCour
Dutton
$17.99
October 2009
FTC: This is a library book. I am not being compensated in any way for reviewing this book.

Characters 15/20
Plot 15/20
Setting 15/20
Cover 20/20
Ending 20/20
Total grade: 85% B
Sexual content: low
Violence: moderate (suicide)
Drugs: none
Underage drinking: none
Swearing: mild
Total rating: 13+
Summary: (Barnes and Noble)
After losing her best friend, Ingrid, to suicide, Caitlin is completely immobilized. Unable to function, and refusing to visit a therapist, she begins the long journey to wellness alone. During this year of heart-wrenching, raw emotion, Caitlin finds Ingrid's journal, which not only reveals her descent into irreversible depression, but also serves as Caitlin's vehicle for renewed hope in the future. The book is written with honesty, revealing one's pain after the loss of a loved one. Caitlin learns, with the help of new friends and her parents, that there is life after Ingrid.
My Thoughts:
This book started off very well. I was able to fall right into reading it. The problems happened about half way through. I began to get bored and could not just sit and read very much. I think it could have been a much better book if certain parts were cut.

I would recommend this book to readers who are looking for a sad book. It was relatively clean but the topic of suicide is a tough one.