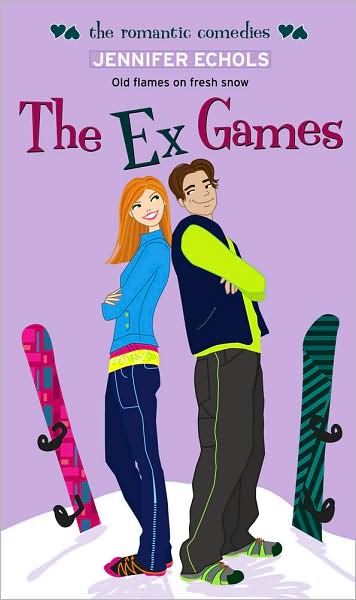 The Ex Games
Jennifer Echols
Simon and Schuster
$6.99 USD
September 2009
FTC: I received this from the author with the understanding that I would provide an honest review for no compensation.

Characters 15/20
Plot 15/20
Setting 20/20
Cover 20/20
Ending 20/20
Total grade: 90% A
Total rating: 12+
Summary: (Amazon)
Hayden and Nick used to be a hot item, but their brief affair ended with a highly publicized breakup. Now the two are "just friends," excluding the occasional flirtation.
When Hayden wins the girls' division of a local snowboarding competition, Nick is unimpressed, claiming that Hayden wouldn't have a chance against a guy. Hayden calls Nick's bluff and challenges him to a head-to-head boarding contest. Their mutual friends quickly take sides, the girls on Hayden's and the boys on Nick's, making for an all-out battle of the sexes. This friendly competition is bound to get heated -- and they might end up igniting some old flames.
My Thoughts:
I had read Jennifer Echols before and LOVED her writing. This book was good but not what I'd expect after Going too Far. This book was fun but it didn't make me want to read it in one sit. I felt that it could have had some details removed that were unnecessary. This book is for those kick-butt snow boarders of the female gender!