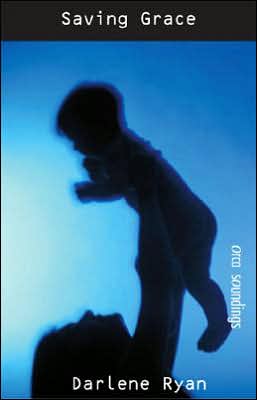 Saving Grace
Darlene Ryan
Orca Soundings
$9.95
2006
FTC:
This is my book. I did not receive it or any compensation from the author or publisher.
Characters 15/20
Plot 15/20
Setting 20/20
Cover 15/20
Ending 15/20
Total grade: 80% B
Sexual content: low
Violence: none
Drugs: none
Underage drinking: low
Swearing: low
Total rating: 12+
Summary: (Amazon)
Evie's first mistake was getting pregnant. She admits that. The second mistake, giving her baby up for adoption, wasn't her idea but her father's. So to fix it, the 15-year-old takes drastic action by kidnapping Brianna, now named Grace, from her adoptive parents and running away with her. She convinces Justin, the child's father, to drive them to Montreal so they can start over as a family. His change of heart puts Evie's plans for a new life in jeopardy, and Brianna's rising temperature turns up the heat on the decision that Evie knows in her heart she must make.
My Thoughts:
Although this was an easy, fast paced book I found much lacking. The plot was rather small and the characters were not well developed. I did like the way that setting was incorporated though. As far as the cover is concerned, I think they could have found a better one. This leaves too much open. The ending also left more questions left unanswered then I would prefer.
I would recommend this to reluctant readers and those just starting to indulge in the world of YA literature.