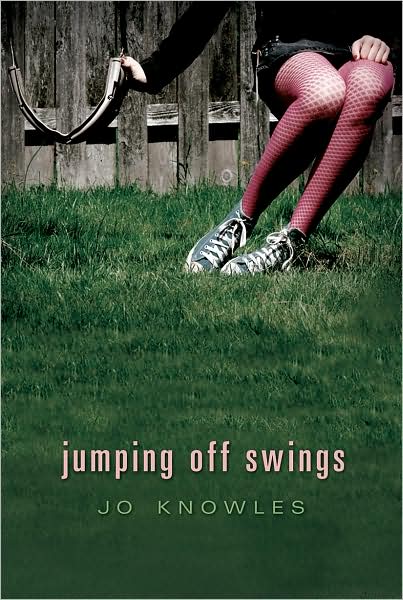 Jumping off Swings
Jo Knowles
Candlewick
$16.99
August 2009
FTC: This is a library book. I am not being compensated in any way for reviewing this book.

Characters 20/20
Plot 20/20
Setting 15/20
Cover 20/20
Ending 15/20
Total grade: 90% A
Sexual content: above moderate
Violence: mild
Drugs: none
Underage drinking: mild
Swearing: high
Total rating: 15+
Summary: (Amazon)
Ellie has sex with boys who make her feel wanted and beautiful and then never call again. Even seemingly decent Josh, a virgin, leaves right after their tryst and never speaks to her again. It turns out the condom "slipped off" and she gets pregnant. The next nine months are narrated by four characters—Ellie, Josh, and their best friends, Corinne and Caleb. Ellie's and Josh's families are filled with stock dysfunction—from Ellie's shrill, uptight mother and perfect-on-the-outside home to Josh's washed-up, hard-drinking father and hapless mother. The plot of this novel is tired, but Corinne and Caleb, at least, are mercifully convincing and thoughtful. Each, of course, comes from a stable family. Caleb's single mother is the novel's moral center.
My Thoughts:
I really enjoyed this fun novel. It handled a delicate issue in a way that was amazing. The issue of teen girls having sex because they want to feel love is real. The girls who do that are often labeled sluts. This book made me realize how difficult the girls have it. This was an important book to read. The choice Ellie made is not easy but I feel it was important to the story.

Ellie was an incredible character. I loved how self wise she became. Josh pissed me off. He needed to grow up and actually take some REAL responsibility. As for Ellie's friends… I want them as my friends. They were awesome.

I recommend this book to all teen girls.