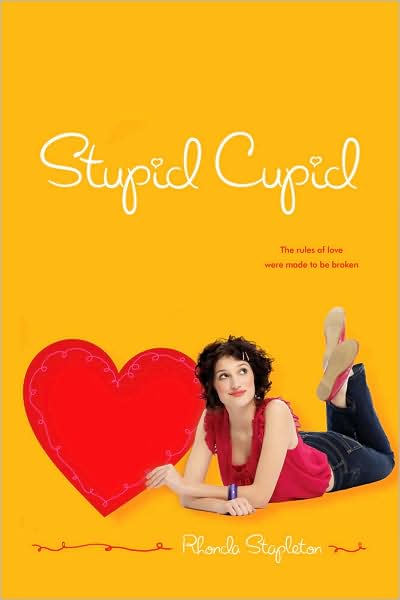 Stupid Cupid
Rhonda Stapleton
Simon Pulse
$9.99
December 2009
FTC: I received this book from the publisher with the understanding that I would provide an honest review for no compensation.

Characters 20/20
Plot 18/20
Setting 20/20
Cover 20/20
Ending 20/20
Total grade: 98% A
Sexual content: moderate
Violence: low
Drugs: none
Underage drinking: none
Swearing: moderate
Total rating: 13+
Summary: (Amazon)
Felicity's no ordinary teen matchmaker...she's a cupid!
Felicity Walker believes in true love. That's why she applies for a gig at the matchmaking company Cupid's Hollow. But when Felicity gets the job, she learns that she isn't just a matchmaker...she's a cupid! (There's more than one of them, you know.)
Armed with a hot pink, tricked-out PDA infused with the latest in cupid magic (love arrows shot through email), Felicity works to meet her quota of successful matches. But when she bends the rules of cupidity by matching her best friend Maya with three different boys at once, disaster strikes. Felicity needs to come up with a plan to set it all right, pronto, before she gets fired and before Maya ends up with her heart split in three.
My Thoughts:
I absolutely adored this book! It was super cute and fun to read. The characters were all well developed. I enjoyed each one of their stories. The only thing that bothered me about the plot was the time. It felt like more time had passed but then you were suddenly told it had only been two days. Other then that I would say it was flawless.

I love this cover. Is it just me, or does anyone else think the girl on the cover could be related to the author? (: That made me love the cover even more!
The end of this book was awesome! It made me want to read the second one even more. Lucky for me the second one is already out!!!

I recommend this to romance novel fans.