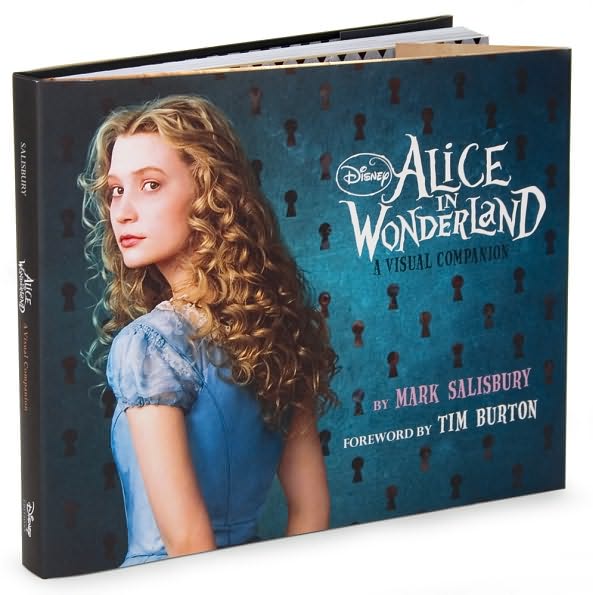 Alice in Wonderland: A visual companion
Mark Salisbury
Disney Hyperion
$50.00
March 2010
FTC: I received this book from the publisher with the understanding that I would provide an honest review for no compensation.

Total grade: A
Total rating: 12+
Summary: (Amazon)
Think you know the classic story of Alice and her adventures in Wonderland? Think again. Renowned director and producer Tim Burton (The Nightmare Before Christmas, Corpse Bride, James and the Giant Peach, Edward Scissorhands, Beatlejuice, Batman) has applied his signature stamp to this beloved tale, and will be sharing it with audiences in 2010! This splendid "Making/Art of" will take readers to the world behind Burton's camera, revealing the secrets of performance-capture technology, the marriage of live-action and CGI technology, and displaying its singular style in a deluxe, artistic format. Fans will delight in reading about Johnny Depp's performance as The Mad Hatter, and Ann Hathaway as The White Queen, to name just a few of the star performances. And, of course, the book will chronicle Tim Burton's unique techniques.
My Thoughts:
I would like start off by saying this book was flat out gorgeous. The pictures were beautiful and it gave such an in-depth look into the making of this movie. It was enjoyable to see how all the actors felt about their characters and how they got in "the zone". The quotes were awesome and the layout beautiful.

After reading this I can say it was enjoyable. I think this is the perfect coffee table book. The one friends will want to flip through every time they sit on your couch. Go buy this gorgeous book now.