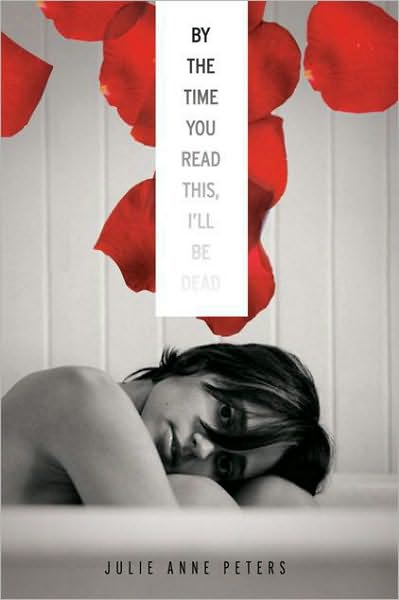 By the Time You Read This I'll be Dead
Julie Anne Peters
Hyperion
$16.99
January 2010
FTC: I received this book from the publisher with the understanding that I would provide an honest review for no compensation.

Characters 20/20
Plot 20/20
Setting 15/20
Cover 20/20
Ending 20/20
Total grade: 95% A
Sexual content: mild
Violence: heavy (self-violence)
Drugs: none
Underage drinking: none
Swearing: moderate
Total rating: 15+
Summary: (Amazon)
Daelyn Rice is broken beyond repair, and after a string of botched suicide attempts, she's determined to get her death right. She starts visiting a website for "completers"— www.through-the-light .com.

While she's on the site, Daelyn blogs about her life, uncovering a history of bullying that goes back to kindergarten. When she's not on the Web, Daelyn's at her private school, where she's known as the freak who doesn't talk.

Then, a boy named Santana begins to sit with her after school while she's waiting to for her parents to pick her up. Even though she's made it clear that she wants to be left alone, Santana won't give up. And it's too late for Daelyn to be letting people into her life…isn't it?
My Thoughts:
Let me start by saying this book broke my heart. It had me in tears at a couple parts. For someone so young to feel that way is just horrid. It made me stop to think about the girls at my school who just need someone to reach out. Being teased and bullied is hard. I know from personal experience (a story for another day). I think this is a great curricular read for middle and high school students.

The plot was great. It was very developed and could really sway your emotions. I cried, I laugher, I wanted to scream. This girl was the kind of girl I want to be friends with. Not the suicide part, but she is seriously smart. The thoughts that girl has are amazing!
The end of this book confused me. There was no real conclusion. You are left to wonder what happened. If you happen to read this Julie, I would be very interested in what you think happens.

I recommend this book for all teens. Its an important read.