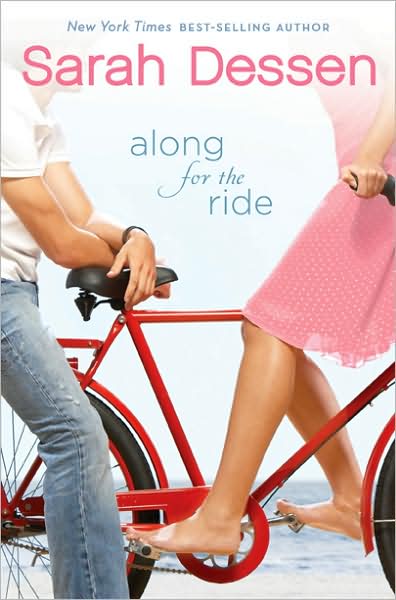 Title: Along for the Ride
Author: Sarah Dessen
Publisher: Viking Juvenile
Price: $19.99 USD HB
Release: June 16, 2009

Grade: B-
Rating: 13+
Summary: (From Amazon)
Auden is about to start college in the fall, and decides to escape her control-freak professor mom to spend the summer with her novelist father, his new young wife, and their brand-new baby daughter, Thisbe. Over the course of the summer, Auden tackles many new projects: learning to ride a bike, making real connections with peers, facing the emotional fallout of her parents' divorce, distancing herself from her mother, and falling in love with Eli, a fellow insomniac bicyclist recovering from his own traumas.

My thoughts:
Before you all stone me due to the B minus rating let me explain myself. I loved parts of this book, what I didn't love though was the feeling I got that I was being talked down to. At parts it got so repetitive that I began to wonder just how stupid Sarah thought her readers were! I love Sarah Dessen, do not get me wrong. Maybe it is unfair of me, but I hold her at a very high standard. I have seen how great she can write and I believe that is what disappointed me. The plot was great, the characters were well developed! The only thing that kept me feeling like it wasn't a great book was how she repeated every miniscule detail so many times. Overall a good book, if you can handle the few parts that are just too slow.

Recommendation:
Fans of chick lit and Sarah Dessen.