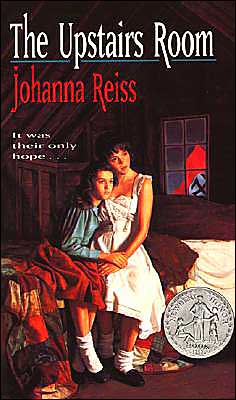 Title: The Upstairs Room
Author: Johanna Reiss
Publisher: Harpercollins Childrens Books
Price: $6.98 USD on Amazon
Release: October 1 1990

Grade: A
Rating: 13+
Summary: (goodreads)
In the part of the marketplace where flowers had been sold twice a week-tulips in the spring, roses in the summer-stood German tanks and German soldiers. Annie de Leeuw was eight years old in 1940 when the Germans attacked Holland and marched into the town of Winterswijk where she lived. Annie was ten when, because she was Jewish and in great danger of being cap-tured by the invaders, she and her sister Sini had to leave their father, mother, and older sister Rachel to go into hiding in the upstairs room of a remote farmhouse.

My thoughts:
This was honestly one of the best Holocaust/ World War 2 books I have ever read. This is coming from a girl who was obsessed with this aspect of history for a long time! I read it in both the 5th and 7th grades and loved it each time. The plot was unique, the characters well developed. Even the setting was presented so vividly, it was engraved into the mind.

Recommendation: Fans of holocaust literature will love this gripping novel.