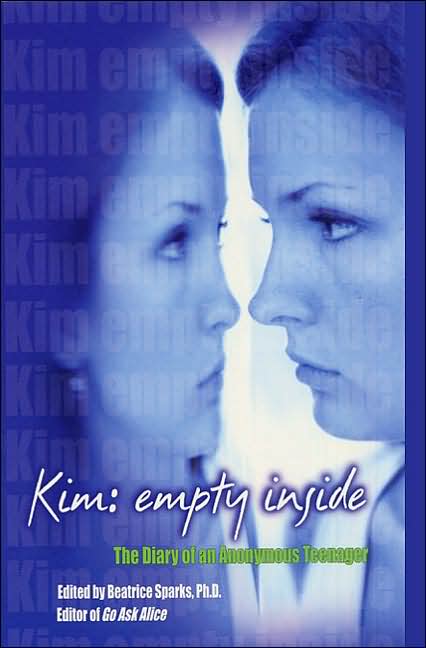 Title: Kim: Empty Inside
Author: "edited" by Beatrice Sparks
Publisher: Avon Books
Release: 2002
Price: $5.99 USD PB

Grade: B
Rating: 13+
Summary: (From Amazon)
A high school senior, is on a downward spiral into anorexia. Speaking through her journal, she confides the hopes, fears, and pressures typical of a teenage girl. Her weight figures prominently in her wish to be accepted into the UCLA gymnastics program, and eventually she blames food for most of the bad things that happen to her. Kim progresses from not eating to the use of laxatives. Her rapidly changing emotions ring true, as do her feelings of helplessness-even though she is ashamed of her actions, she cannot stop herself. However, her willingness to admit her problem and accept help seems artificial and diminishes its severity. This book may encourage readers to search for additional material in the resources listed.

My thoughts: This book had been sitting on my bookshelf awhile before I finally got around to reading it. I must say it was a great book but not one I enjoyed reading. Let me clarify what I mean.

The plot and characters were very well developed. If this really is a teen's diary (I know that is debatable) then she was very intelligent. I consider myself a smart person but this book had a few words I'd never heard of.

The part I didn't like with this book was that it turned my stomach. This truly is a form of self-destruction and it was very upsetting. It made me stop and think what kind of body image I have, what my friends encourage.

Recommendation: Teen girls should all read this.