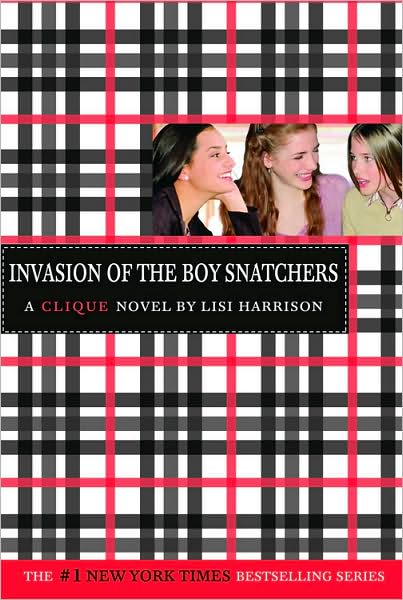 Title: Invasion of the Boy Snatchers
Author: Lisi Harrison
Publisher: Poppy
Price: $9.99 USD PB
Release: 1st Ed. edition (October 5, 2005)

Grade: A
Rating: 12+
Summary: (From Amazon)
The holidays are over and Massies room is chock full of new things from Santa: jeans, sweater, and a new . . . roommate? Once Claire unpacks, Massies room feels more crowded than a Zac Posen sample sale. But whats worse, Claire isnt the only person moving into Massies territory Alicias hot, Spanish cousin, Nina, shows up from Spain and starts edging in on all the Briarwood boys, including Massies crush! Will Nina, with her super-tight mall clothes, make every boy in Westchester fall in love with her? Or will Massie toss her out faster than last seasons Sevens jeans? The social minefields of Westchester Countys most privileged middle school girls drive the page-turning action of this addictive series, set in New York Citys most elite suburban county. The Clique . . . the only thing harder than getting in is staying in.

My thoughts: I loved this fourth installment. I loved how there was suddenly a new girl in the mix who didn't quite fit into the picture. This was the book where lines began to be drawn and drama started to unfold. What a great book!

My recommendation: Middle School girls will love this series!