"I'm Max."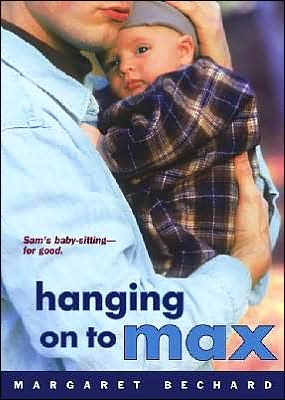 Hanging on to Max
by Margaret
Bechard
~Breaking it down~
Characters 10/10
Uniqueness 10/10
Plot 10/10
Well Developed 10/10
language 8/10
sexual content 6/10
violence/gore 9/10
darkness 9/10
Sam is supposed to have a great year. He is finally a senior so this year is bound to be amazing. Those plans are ruined when his girlfriend has a baby. The little boy quickly becomes to much for her so he becomes Sam's responsibility. Sam is forced to make tough choices through out, but will they be the right ones?
~My Thoughts~
Hanging on to Max
was the best book I have read recently. The story had me falling in love with a character who does not exist. So maybe he's no vampire like Edward Cullen but he's my new hero. Even through all the love I found myself wanting to cry. The story at times grabbed my heart and squeezed. The choices Sam was forced to make are incredibly heart wrenching. You will just want to hug him. Baby Max will have you laughing super hard. Although it was a fairly clean book I would recommend you be
at least
14 before reading this. Teen pregnancy is a hard topic and not one that all parents want their
pre
-teens or young children reading.